Peace Out, Headband Headaches.

The relaxed fit gently holds your hair in place. No pinching or squeezing!

Easy Storage + Travel.

The fold-away design is ideal for dropping in your purse as you're on the go!

Dress Up + Down.

With so many patterns and colors to choose from, easily take your hair from day to night.

For Every Hair Type.

Curly, kinky, fine, thick, and wigs, too! Different sizes are available for your unique crown.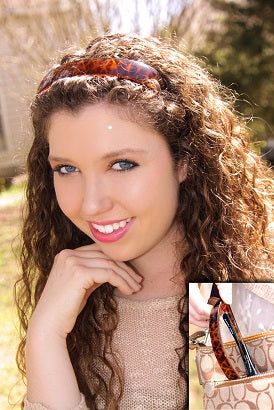 Fun.
Fashionable.
Comfortable.
Perfect for wigs, too. Finally, a headband that fits like sunglasses. SqHair Bands are relaxed fit hinged headbands for a cute look without the headache! Shop our collections of beautiful colors, prints, and designs. 
Shop Collections
5 Stars — maybe even more!
"I received my sqhairbands today and I am delighted with them!  As I have recently needed to start wearing wigs, I have watched many YouTube 'wig sisters' and several promote your wonderful product…" - Sharon
A Re-Engineered Headband!
"I have always had fine hair and worn whatever headbands were available commercially - and they always hurt. ...Not only are these comfortable and pretty - but so much easier to store.  Thank you for a great new and improved headband." - Sandy
Personalized Service
"I am beyond impressed with the care of the packaging of my order of ONE band! Wow! It came in a box actually. Of course I had to try it on right away and it is just as great as the YouTubers said it would be but looks even better in person!" - Laura
The Brains Behind the Band.
Learn our story and how SqHair Bands was born...
About Us